Vehicle Project Planner Version 1.0.1 featured in Tom Benford's latest book!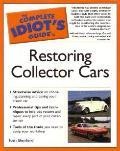 See what Tom has to say about Vehicle Project Planner in his book The Complete Idiots Guide To Restoring Collector Cars

Vehicle Project Planner Version 2.0.0 Soon To Be Released!

We have been hard at work on our next release of Vehicle Project Planner. Some of the highlights:

Easier to use and navigate through projects. Added a "Windows Explorer" style interface that allows you to jump from project to project without closing and opening a project.

Removed the limitation of 99 vehicle projects. Now supports an unlimited number of projects.

Program is now wizard driven - When you add a new project, part or category, you will be guided to fill in information in a wizard style interface.

Fully web integrated - The internal web browser will allow you to have quick and easy access to the Vehicle Project Planner website, various auto related web sites of vendors and manufacturers, as well as a classified ads page for registered users of the program.

Many fixes to the program since 1.0.1.

This program will be free of charge for registered users of Vehicle Project Planner Version 1.0.1